I love this time of year. The gloom, the colors, the ozone smell right after a big rain storm, not to mention that this is easily the greatest time of year for cooking. It's a season for stews, roasts, and my personal favorite - pies. Nothing warms you up and sticks to your bones like a good slice of pie. So for my most recent treat for myself I made a delicious pot pie. I love the fact that one pan is the perfect amount to have plenty of leftovers and reheats perfectly. Considering how busy I've been it's difficult to have a good meal, and since I work in a pizza shop, dinner more than usually consists of cold, old pizza. :(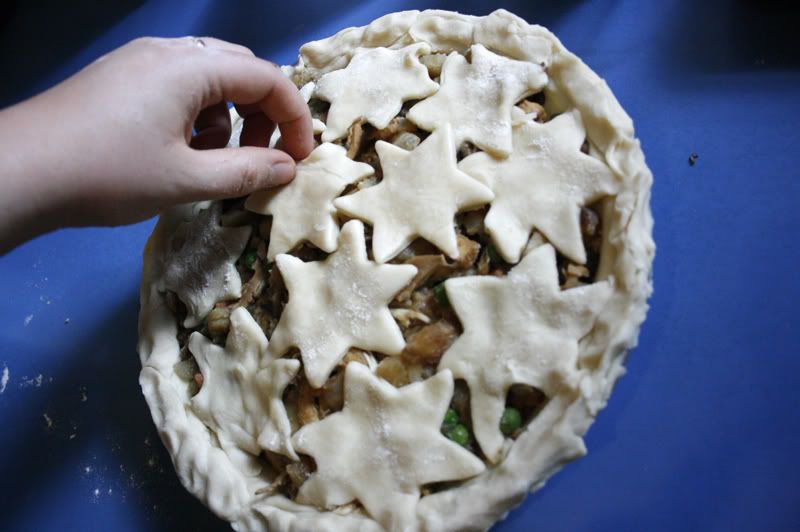 So when
Martha Stewart
did a feature on savory pastries, I did some research and while this isn't the most unique recipe, it's a time tested classic that I'm sure you will enjoy. Some hints? For a fun extra, use a cookie cutter for the top pie crust, I just cut and layered mine on! On a second crust-related note, if you find your crust on the edge is cooking faster (as mine did, stupid oven) than the other parts, wrap some tinfoil over it and you'll be able to get that classic golden brown crust. Enjoy!
Chicken & Mushroom Pot Pie
Ingredients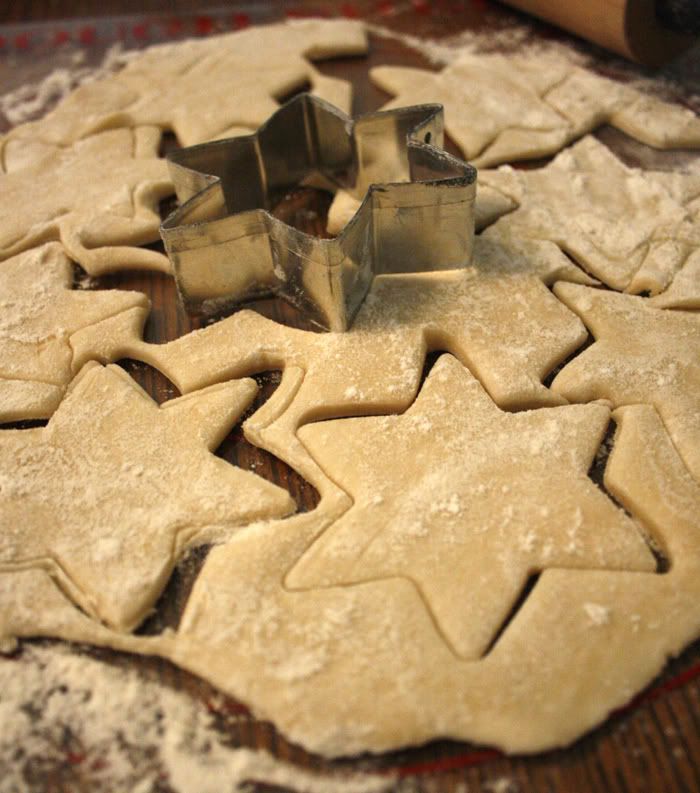 2 1/2 cups plus 6 tablespoons all-purpose flour
Salt and freshly ground black pepper
1 teaspoon sugar
1 cup (2 sticks) plus 5 tablespoons unsalted butter, cut in small pieces
1 three- to four-pound chicken
4 cups Homemade Chicken Stock, or canned low-sodium chicken broth, skimmed of fat
8 ounces pearl onions
10 ounces red potatoes, scrubbed and cut into 1/2-inch pieces
5 medium carrots, peeled, cut into 1/2-inch pieces
14 ounces shiitake, cremini, or button mushrooms, quartered if large
3/4 cup milk
1 ten-ounce package frozen peas, thawed
2 tablespoons fresh thyme, leaves
2 tablespoons chopped fresh sage
1 large egg
Directions
Combine 2 1/2 cups flour, 1 teaspoon salt, and the sugar in a food processor. Add 1 cup butter; process until mixture resembles coarse meal, 8 to 10 seconds. Add 1/4 to 1/2 cup ice water in a slow steady stream through feed tube with machine running, until dough holds together, about 30 seconds. Turn dough onto piece of plastic wrap; divide in half. Press each half into flat circles, wrap each in plastic, and refrigerate at least 1 hour or overnight.
Place chicken and stock in a medium stockpot. Add enough water just to cover chicken. Bring to a boil, reduce heat, and simmer gently until chicken is cooked through, 45 minutes. Using tongs, transfer chicken to a plate; set aside until cool enough to handle. Strain 2 cups stock into a measuring cup, and set aside. (Remaining stock may be frozen for another use.)
Preheat oven to 375 degrees, with rack in center. Cook pearl onions in a medium pan of simmering water for 15 minutes. Drain, and rinse under cool water. Peel onions; set aside. Remove skin and bones from chicken, and discard. Shred chicken into bite-size pieces, and set aside.
Melt remaining butter in a large high-sided skillet over medium heat. Add potatoes, carrots, and onions, and cook, stirring occasionally, until potatoes begin to turn golden. Add mushrooms, and cook 5 minutes more. Add remaining flour, and cook, stirring, for 1 minute. Add reserved chicken stock and milk; bring to a simmer. Cook until thick and bubbly, stirring constantly. Stir in reserved chicken, peas, thyme, sage, and salt and pepper to taste. Remove from heat, and let cool slightly.
Beat egg with 1 teaspoon water to make glaze. On a lightly floured surface, roll out half the dough to a 12-inch circle. Transfer dough to a 9 1/2-inch glass pie plate with dough overlapping top of pan. Trim dough to about a 1-inch overhang. Carefully spoon filling into dough.
Roll out remaining dough to a 10-inch circle, and transfer to top of filling. Fold overlapping edges of dough under to make a firm edge. Use fingers to pinch a decorative border. Use a knife to make four to five slits into the center of the pie. Brush top of dough with egg glaze. Bake pie on a baking sheet until dough is golden brown, rotating pie halfway through for even baking, 45 to 60 minutes.