Vacation is coming to a conclusion and despite the fun times we've had, I'm looking forward to heading home to finish out my holidays. Since the hotel kitchen isn't really gourmet-ready my idea of a traditional Christmas dinner isn't going to work out, so we're spending our last day at the beach, surfing and boogie boarding. Rough life I guess. :)
boyfriend&I on the beach
Some other things we've done the past couple days included the traditional luau at Paradise Cove, where the dancing was fantastic! It was especially fun seeing my parents walk through the cove, knowing that they had been there nine months before I was born. The food was nothing really extraordinary, I think because they cater to more tourists than locals.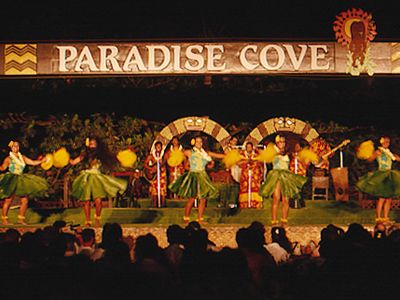 Hula dancers at Paradise Cove
Some other activities included swimming with sting-rays, eating FRESH sushi from a great little restaurant in Honolulu, and star-gazing then watching the sun rise with my father over the beach. Supposedly there's a phenomenon here in Hawaii where there is a green flash right before the run rises or sets, but I haven't seen evidence of that yet.
Sunrise over the harbor in Ewa, HI




I hope everyone else is enjoying their holidays and are getting ready for the New Years!